Fire Emblem Warriors: Three Hopes - The Loop
Play Sound
"Can everyone please stop telling jokes and start actually helping?!"
Wendy O. Koopa is not happy. She has spotted broken links on this article. You can make her proud by helping MarioWiki editors create pages!
"Mind turning around for a minute?"
― Boo, Paper Mario: Color Splash
Boos (originally known as "Boo" Diddlys and later Boo Buddies-but sometimes mistaken for King Boos without the crown despite the fact that there is only one King Boo) are common ghost enemies in the Mario series that first appear in Super Mario Bros. 3. Since then, they have been an iconic reccuring enemy in the series and are almost always found in Ghost Houses. They are a type of white, spherical ghost with menacing and normally open mouths. They are known for their large tongues and small "arms" of some sort. However, the most distinctive characteristic of the Boos is their shy personality, where they cover their faces when someone looks directly at them. They will uncover their faces once the subject turns around. It is unknown if Boos are the ghosts of formerly living beings or if they are an actual species, however it is more likely that they are a species however, Goombario's tattle for the Boo Igor in Paper Mario states: "He probably was a merchant before he became a Boo," implying that some current Boos may have once been living beings. It is revealed in Super Mario Galaxy that they speak in a language called "Booish." While they have been enemies for most of their history, recently, they became playable characters and some even allied to Mario.
History
Mario Bros.
Boos appear in the Super Mario All-Stars remake of Mario Bros.. They serve as a replacement to the green Fireballs.
Super Mario Bros. 3

Super Mario Bros. 3 marks the first appearance of Boos. Boos appeared as timid and would cover themselves up if Mario or Luigi looked at them, but would chase them when they were turned away. The enemy were generally invincible unless a Hammer Bro. Suit was equipped, or there was use of a Blue Koopa Shell or Starman. Also appearing in Super Mario Bros. 3, are Stretches, a longer version of Boos that appear in Fortresses throughout the Mushroom Kingdom.
Super Mario World
Boos appeared in Ghost Houses in Super Mario World. Their attack pattern is the same as those from Super Mario Bros. 3 and will occasionally make faces at Mario and Luigi. A new sub-species of Boos was introduced, the Boo Buddy. Also introduced in Super Mario World were the Big Boo and Fishin' Boo, a ghost-like form of a Lakitu. Boos can be defeated with the effects of the Starman.
Super Mario 64
Boo's main appearance in Super Mario 64 is in the level Big Boo's Haunt from Super Mario 64. A group of Boos appear in the Castle Gardens Courtyard (eight holding red coins in the DS version) outside the castle at the back, they appear after 1 star, and a Big Boo can be found in the hallway leading out to the gardens. After obtaining twelve Power Stars,(15 in the remake) Mario and the others are able to enter Big Boo's Haunt. The level portal is found in a small cage inside a bigger Boo. To get to the portal, the Boo must be defeated. When Mario looks at a Boo, they try to hide by becoming partially invisible, instead of hiding their faces, while they're semi-transparent, a coin or a Blue Coin can be seen. The ones in the courtyard produce a single coin. A punch or a kick is required to defeat them. They are also vulnerable by ground pounds. In Big Boo's Haunt, there are also three Big Boos which hold Power Stars, they must be hit three times to be defeated. Boos are only found in Big Boo's Haunt.
Super Mario Bros. Deluxe
Boos may not have appeared in Super Mario Bros., but they make an appearance in the remake Super Mario Bros. Deluxe as the main enemy in "You VS. Boo" mode. The goal is to reach the flag pole before Boo. After so many times, Boo gets replaced by Green Boo. Green Boo is faster, and once Green Boo is defeated so many times, it gets replaced by Red Boo. Red Boo is significantly faster than Boo and slightly faster than Green Boo. Once Red Boo is defeated, it gets replaced by Black Boo, the fastest Boo in the game.
Super Mario Sunshine
Boos appear in Hotel Delfino on Sirena Beach in Super Mario Sunshine. Boos can be stunned with F.L.U.D.D. and then jumped on or ground pounded for defeat. They disguise themselves as coins that don't spin. King Boo can be found in the basement of the Hotel Delfino. Boos are also able to disguise themselves as Shadow Mario to confuse Mario when he's looking for the real Shadow Mario during Mission 7. Red Boos also make an appearance in which they can be sprayed with F.L.U.D.D and used as platforms. Sleepy Boos are also seen in the roof duct of the hotel.
Super Mario 64 DS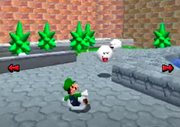 Boos keep the same role as they did in the original; instead, their eye color is different and their look has been updated to be more modernized. The leader of the Boos King Boo also appears in this game and is the one responsible for capturing Luigi. Mario can find a painting of Luigi on the highest floor of Big Boo's Haunt, which takes him to the Big Boo Battle on the balcony. After following the cackle of King Boo, Mario arrives in a room with a mirror in it. To defeat King Boo, Mario must view him through the mirror, since King Boo is invisible. Once King Boo is defeated, Luigi is let free. Yoshi cannot defeat them, for ground pounding and sweep kicks have no effect, and if he tries to eat them he will spit them out therby making Big Boo's Haunt the only main course that not all 4 characters can access.
In Big Boo's Haunt, one of the Boos possesses a Luigi Cap in missions starting with Mission 3.
New Super Mario Bros.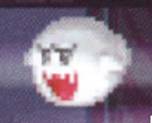 Boos appear mainly in Ghost Houses throughout the game, and also in World 8-1. They have the same tactics as those of Super Mario Bros. 3. Two new forms of Boos are introduced in this game, Balloon Boos that inhale air whenever Mario looks at them and chase him (whist deflating) when he looks away, and Broozers, the boxing ghosts. Boos can also spawn from some ? Blocks, Boos can only be defeated with the effects of the Blue Shell or the Starman.
Super Mario Galaxy
Boos are found in four galaxies in Super Mario Galaxy, those being the Ghostly Galaxy, the Bigmouth Galaxy, the Deep Dark Galaxy, and the Sand Spiral Galaxy. They act as they did in previous games. They can only be defeated if they are under a stream of light. If a Boo catches sight of Mario while he's Boo Mario, they start moving towards him, falling in the "love" as the heart up them when seeing Mario would mean. Boos also appear underwater in the Bigmouth Galaxy, while underwater, they swim back and forth much like Cheep Cheeps. A new form of Boos are introduced in this game, called the Bomb Boo. Hence their name, Bomb Boos are explosive and can be used to destroy objects that are normally unbreakable, they are also the key to defeating the colossal rock monster Bouldergeist. A friendly Boo called the Spooky Speedster also appears. He challenges Mario to races in the Ghostly Galaxy and the Boo's Boneyard Galaxy. If Mario wins these races, the Spooky Speedster awards Mario with the Power Stars.
The outside of the Mansions also count as light areas as a result, if a Boo is lured outside, it will still be defeated.
New Super Mario Bros. Wii
Boos reappear in New Super Mario Bros. Wii and appear in Ghost Houses, like in previous games. A Starman can only defeat them. Big Boos and Broozers appear, as well as Circling Boo Buddies. Their appearance is more of a glowing blue instead of the normal white. In this game, Boos are only seen in Ghost Houses and no other levels making them much less common, additionally, a Boo can also be seen outside each Ghost House on the world map. Upon completion, the Boo by the Ghost House will cover its eyes.
Super Mario Galaxy 2
The Boos in Super Mario Galaxy 2 appear in the Haunty Halls Galaxy, the Boo Moon Galaxy, the Battle Belt Galaxy, and the Slimy Spring Galaxy. They behave the same as they did in the previous game and can be defeated in the same ways (via light). The Big Boo also makes a return in this game, Big Boos are completely invincible, Bomb Boos are also back and appear in the Boss Blitz Galaxy during Bouldergeist's boss fight. Octoboos also appear in this game.
Super Mario 3D Land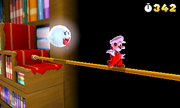 Boos also reappear in Super Mario 3D Land, where they are commonly found in Ghost Houses and retain their trademark moveset. There is also a new variety of Boo known as Tail Boos, which have Tanooki tails and will swing them if the player looks at them. Big Boos also return in this game as a semi-common enemy, most of the time, Boos are completely invisible until Mario approaches at which point they reveal themselves and follow him. Boos are very durable and can only be defeated with the effects of the Starman other attacks will make them briefly disappear. A new type of Boo called the Peepa makes it's debut in this game.
New Super Mario Bros 2.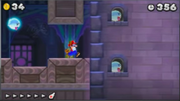 Boos reappeared in New Super Mario Bros. 2, where they are found in the game's many Ghost Houses and Haunted Forests and behave as they did in past games. The Big Boo also makes a return in this game, Boos can only be defeated with the effects of the Starman or the Gold Flower. Boos are among the enemies to be affected by the Gold Ring. When activated, the Boos and Big Boos become Gold Boos and Gold Big Boos respectively, the Gold Boos turn and flee leaving coin trails behind them and this game also introduced a new variety, Boohemoth which is much bigger and can chase Mario down narrow hallways.
New Super Mario Bros. U/New Super Luigi U/New Super Mario Bros. U Deluxe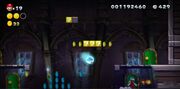 Boos and Big Boos return in New Super Mario Bros. U, New Super Luigi U, and New Super Mario Bros. U Deluxe behaving as they did in past games. They commonly appear in Ghost Houses and various levels of Soda Jungle's Haunted Forest. Boos can be defeated with the effects of the Starman or being swallowed by Baby Yoshi. The Circling Boo Buddies also return in this game. Boos appear in the enemy course of Soda Jungle's Haunted Forest.
Super Mario 3D World/Super Mario 3D World + Bowser's Fury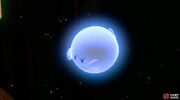 Boos and Big Boos are back in both Super Mario 3D World and Super Mario 3D World + Bowser's Fury behaving as they did in past games, they are commonly found in Ghost Houses alongside Peepas and can be defeated mainly with the effects of the Starman but they can now also be defeated with the new Light Box. Shining a Light Box in a Boo or Peepa's face for long enough will destroy it just the same. Boos mainly appear once you get close enough, they can also sometimes appear when you make contact with fake objects (such as fake doors and even fake Flagpoles).
Super Mario Maker/Super Mario Maker for Nintendo 3DS/Super Mario Maker 2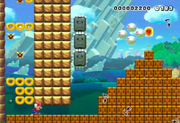 Boos also appear in Super Mario Maker as well as it's two sequels as placeable enemies. Boos can be placed in any theme and they appear in all the game's styles. A Boo can be given a Super Mushroom to become a Big Boo or wings to become a Winged Boo. Boos can also be placed near a flat surface to become a Stretch. Boos behave the same as they did in usual games and can be defeated only with a Starman.
Super Mario Run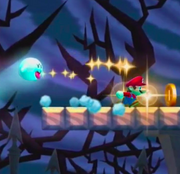 Boos return in Super Mario Run behaving as they did in past games. They can be defeated with the effects of the Starman. Stretches also return in this game retaining their appearance from the New Super Mario Bros. U style of Super Mario Maker.
Paper Mario series
Paper Mario
In Paper Mario, Boos are only seen in Boo's Mansion and brown ones can be seen in Gusty Gulch. The Boos in this are informed by Lady Bow to test Mario before he is allowed to see her. The Boos will guard the helpful Super Boots and one Boo will even teach Mario how to use them. As later stated by Lady Bow, a monster named Tubba Blubba has recently turned invincible and has been eating Boos as payback for scaring him many times. Some Boos can be seen hiding in Tubba Blubba's Castle where one of the Boos informs Mario that the secret to getting to Tubba Blubba's weakness is in the castle. After Mario finds the key and finds the source of Tubba Blubba's invincibility, Tubba Blubba is defeated and spits out every Boo he has eaten. Tubba Blubba then runs away crying much to the joy and relief of the Boos. It should be noted that in this game, not only does the Boos not appears and enemies in this game, but they are also allies to Mario since in other appearances, they usually try to trick and attack Mario.
Paper Mario: The Thousand-Year Door
In Paper Mario: The Thousand-Year Door, the Boos inhabit the Creepy Steeple in this game. 200 Boos are released from a chest after Mario answers it and one of them asks Mario a question about how many Boos just came out. If Mario answers correctly, the Boo rewards him with an Ultra Shroom. Later, the Boo can be seen by himself and asks Mario if he is going to hurt him. If Mario replies he won't, the many Boos soon start to flood in the main hall of the Creepy Steeple. If Mario waits too long in a spot, the Boos will crowd around him and throw him out of the steeple. If Mario swings his Super Hammer three times at them, the Boos will get angry and form into the Atomic Boo. If the Atomic Boo is defeated, then the Boos will no longer surround in the Creepy Steeple (except a few can then be fought as regular enemies). In battle, the Boos mainly attack by scaring at one of Mario's party. The Boos can also make themselves fly higher (preventing Hammer attacks) and invisible (preventing any attacks from hitting at all). In the audience, a Boo may fly out and make either Mario, his partner, or an enemy or boss invisible. Dark Boos also appear in this game
Super Paper Mario
In Super Paper Mario, Boos can be found in certain areas of the game such as in the basement of Merlee's Mansion or the Flipside Pit of 100 Trials. The Boos will attack in their classic way by only moving in closer whenever Mario, Luigi, Peach, or Bowser's backs are turned.
Paper Mario: Sticker Star
In Paper Mario: Sticker Star, Boos only appear in one level.: The Enigmansion. They invaded the Mansion Steward's mansion whom he enlists for Mario's help to capture them all. There are 100 Boos that Mario must defeat and capture all in the Book of Sealing. Some Boos hide cleverly requiring Mario to do a little more exploring. There are also unique types of Boos including the Disco Boos, Golden Boo, Crumbled Boo, and Boo Stack. After Mario captures all of the Boos, he returns the Book of Sealing into the basement. However, it is soon revealed that Kamek was the one who released the Boos who he thought the Book had rare Stickers in it. Kamek uses his magic to combine all of the 100 Boos into one Big Boo. Mario defeats the Big Boo and the Steward's mansion is soon ghost-free.
Paper Mario: Color Splash
In Paper Mario: Color Splash, Boos reappear as enemies in the parallel versions of Vortex Island, Lighthouse Island and Fortune Island, where they seemingly replace Bloopers in that world. Boos will commonly be fought in stack of 10, and can deal a good amount of damage if Mario doesn't defeat them quick enough. Boos also have the unique power to drain Mario's paint by giving him a fright.
Paper Mario: The Origami King
In Paper Mario: The Origami King, Boos reappear as enemies, in two versions, macho origami and normal origami monsters, both can be found in the Sandpaper Dessert. The macho can be battled on the Scuttle Island. Boo does not directly attack Mario. They tend to disappear, teleport around, blocking Mario way. For destroy Macho Boo, Mario has to remove the sticker in their back, then attack them again. Normal Boo can only be seen at the beginning of a match, and turn invisible as player are allowed to rotate the battlefield. Player must remember their position, in order to gain the Puzzle Completion Bonus.
Luigi's Mansion series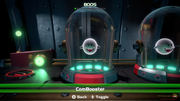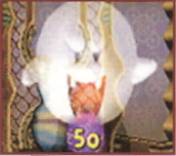 Boos play an important role in this Luigi's Mansion. It is revealed that most of the Boos were formed from Boolossus but King Boo got angry after Professor E. Gadd captured him. This led to King Boo to capturing Mario and releasing all of the captured portrait ghosts with the help of Vincent van Gore. There are a total of 50 Boos that must be captured in this game in order for Luigi to gain access to King Boo in the Secret Alter. The Boos in this game doesn't pull against the Poltergust 3000 which means that Luigi must point the Poltergust 3000 at the Boo in order to suck it up. Boos will also tend to head into other rooms even those that haven't been unlocked yet. Boos can be tracked down using the Boo Radar function of the Game Boy Horror and Luigi must check in that certain location to reveal the Boo. After the Boo has been captured, E. Gadd will update the Boo and even save Luigi's current progress for him. The Boo's names in this game are puns of other objects or phrases such as the "Gameboo Advance" is a pun of the "Gameboy Advance."
Boos are much more smarter and tougher in Luigi's Mansion: Dark Moon. Throughout the game, Luigi uncovers pictures that eventually lead to the Boos once again capturing Mario and using special crystals to power up the ghosts, and making them stronger than ever before. As for combat, the new way to capture Boos is much more complex from the original game. For starters, there is no Boo Radar to get an exact location to where they are and Luigi must search previously explored rooms and areas. Luigi must then search for an invisible object and reveal it using the Dark-Light Device. Luigi must then vacuum up the Spirit Balls to make the Boo appear and attempt to vacuum it up. The Boo will then turn invisible and fly around the room either summoning Spirit Balls to attack Luigi or by simply ramming into him. Luigi must reveal the Boo using the Dark-Light Device and vacuum at the Boo's tongue to send it flying across the room losing money and hp as it bounces around. After the Boo's HP has reached zero, Luigi must quickly vacuum it up into the Poltergust 5000 before it regains itself. Like with Luigi's Mansion, the Boo's names are puns of objects and phrases but they do not save the current game process.
Yoshi series
Outside the Mario series, Boos and Big Boos have appeared in Super Mario World 2: Yoshi's Island and Yoshi's Island: Super Mario Advance 3 (the first game where they're under their current name). Boos retain their trademark behavior of covering their eyes when you look at them and chasing you when you look away. A Boo can only be defeated by looking away and tossing an egg at the wall so it ricochets and hits the approaching Boo (hitting the Boo while it's eyes are covered does nothing). Both Boos and Big Boos return in Yoshi's Island DS and Yoshi's New Island retaining their behavior from before. Boos can be defeated in the same ways as usual. In Yoshi's Island DS Boos can appear in the Museum if defeated with an Egg. A sub-type of Boo called the Invisighoul also appears in this game. The series also introduces different types of Boos such as Boo-Blahs, Boo Guys, Ghost Piranhas, and Invisighouls. A giant Boo named Bigger Boo also appears as a boss.
Mario Tennis series
In Mario Power Tennis, Boo is a playable character. Where it has two Power Shots, one that forms into many Boos; at the same time, the real Boo hits the ball while the fake fades. The other has it forming its racket with many Boos and hits the ball while the Boos fly with it.
Mario Party series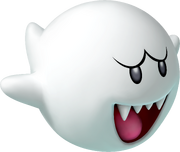 Boos appeared many times throughout the Mario Party series. In Mario Party, Mario Party 2, and Mario Party 3, Boos appeared in several mini-games. In Mario Party 4, Boo was a host, and owned a board named Boo's Haunted Bash. Boo appeared as a playable character in Mario Party 5, and Pink Boos took over the shops and the mini-games. In Mario Party 7, Dry Bones was Boo's partner, and they both shared the same special item. Boo appeared in Mario Party 8 again as a playable character and he even ran a shop in King Boo's Haunted Hideaway. Boo was removed from the playable character roster in Mario Party DS, although he did appear in a couple of mini-games. Boo appears in Mario Party 9 as an enemy that will take Mini Stars away from the captain of the vehicle in Boo's Horror Castle. In Mario Party 1-4 Boos are used to steal coins or a star from an enemy for a fee. Boo will appear as a playable character again in Mario Party: Island Tour.
Mario Kart series

In the Mario Kart series, Boo is used as a defensive item. It first appeared in Super Mario Kart. It would render the character invisible to all other racers and invulnerable to all hazards (except for falls). However, if you would to get hit by the flipper in Waluigi Pinball, you would still get shocked and spin backwards. Boo would also steal an item from a racer on the track if possible. It returned in Mario Kart 64, Mario Kart: Super Circuit, Mario Kart DS, Mario Kart Arcade GP, and Mario Kart Arcade GP 2 with the same function, but in Mario Kart: Super Circuit, Boo also slowed the leader down and caused him/her to lose coins. On the Broken Pier Boos flied around and would attack the player like the item would, however you could stack multiple on you. The Boo item did not reappear in the Mario Kart series until the release of Mario Kart 8 Deluxe.
They were also used as harmless features on tracks such as Ghost Valley, Luigi's Mansion, and Banshee Boardwalk.
Super Smash Bros. series
Although Boos did not appear in the Super Smash Bros. series, they do make a small appearance in the Luigi's Mansion stage when a part of the mansion breaks off. Boo also appeared as a collectible trophy and sticker.
Super Smash Bros. Ultimate
Boos reappeared in Super Smash Bros. Ultimate as background characters and a Boo appears as a spirit (represented by a white Kirby that can turn invisible at any time. In Ultimate, it can be seen at Luigi's Mansion. In World of Light, there is a Boo spirit at Dracula's Castle guarding imprisoned Dark Pit.
Minion Quest
Boos are obtainable minions of the Flying trooper type. Their Special Skill is Evasion Cloak, which raises their evasion.
Etymology
The word 'boo' is often used as an unexpected surprise. It might also be derived from peek-a-boo, being behind someone and shout the phrase behind their backs. Another way it is used is to express dislike, often at a comedic or musical act.
Gallery
Trivia
There is an enemy called a Mumbies in the Kirby franchise that behaves similarly. They are dormant when Kirby has his eyes pointed in their direction (45 degrees of error maximum). However, they enter their active form and chase him when the pink puff has his back turned.
The BOO Unit from Star Fox Guard slightly resembles a Boo.
Characters
Playable Characters
Yoshi • Mario • Luigi • Wario
Supporting Characters
Toad • Bob-omb Buddy • Princess Peach • Rabbits • Ukiki
Bosses
King Bob-omb • Whomp King • Goomboss • Bowser#1 • Big Boo • Big Mr. I • King Boo • Big Bully • Eyerok • Bowser#2 • Chill Bully • Chief Chilly • Wiggler • Bowser#3
Enemies
Enemies
Goomba • Bob-omb • Chain Chomp • Big Steely • Koopa Troopa • Piranha Plant • Thwomp • Whomp • Unagi the Eel • Treasure chest • Cheep Cheep • Bubba • Mr. Blizzard • Amp • Boo • Mr. I • Bookend • Killer Chair • Mad Piano • Scuttlebug • Flamethrower • Monty Mole • Snufit • Swooper • Boulder • Bully • Podoboo • Klepto • Tox Box • Grindel • Spindel • Pokey • Sushi • Manta Ray • Bub • Fire Chomp • Fire Spitter • Spindrift • Skeeter • Heave Ho • Chuckya • Fly Guy • Grand Goomba • Venus Fire Trap • Big Venus Fire Trap
Courses
First Floor
Bob-omb Battlefield • Whomp's Fortress • Jolly Roger Bay • Cool, Cool Mountain • Goomboss Battle • Bowser in the Dark World
Courtyard
Big Boo's Haunt • Big Boo Battle
Basement
Hazy Maze Cave • Lethal Lava Land • Shifting Sand Land • Dire, Dire Docks • Bowser in the Fire Sea
Second Floor
Chief Chilly Challenge • Snowman's Land • Wet-Dry World • Tall, Tall Mountain • Tiny-Huge Island
Third Floor
Tick Tock Clock • Rainbow Ride • Bowser in the Sky
Stars
Bob-omb Battlefield
Big Bob-omb on the the Summit • Footrace with Koopa the Quick • Shoot to the Island in the Sky (N64) •

5 Silver Stars

(DS) •

Big Bob-omb's Revenge

(DS) •

Find the 8 Red Coins

•

Mario Wings to the Sky

•

Behind Chain Chomp's Gate

(N64)/

Behind Chain-Chomp's Gate

(DS)
Whomp's Fortress

Chip Off Whomp's Block

•

To The Top Of The Fortress

•

Shoot into the Wild Blue

•

Red Coins on the Floating Isle

•

Fall onto the Caged Island

•

Blast Away the Wall

•

Switch Star of the Fortress

(DS)
Jolly Roger Bay

Plunder in the Sunken Ship

•

Can the Eel Come Out to Play?

•

Treasure in the the Ocean Cave

•

Red Coins on the Ship Afloat

•

Blast to the Stone Pillar

•

Through the Jet Stream

•

Switch Star of the Bay

(DS)
Cool, Cool Mountain

Slip Slidin' Away

•

Lil' Penguin Lost

•

Big Penguin Race

•

Frosty Slide for 8 Red Coins

•

Snowman's Lost His Head

•

Wall Kicks Will Work

(N64)/

Mario's Super Wall Kick

(DS) •

Switch Star of Cool, Cool Mountain

(DS)
Big Boo's Haunt

Go on a Ghost Hunt

•

Ride Big Boo's Merry Go Round

•

Secret of the Haunted Books

•

Seek the 8 Red Coins

•

Big Boo's Balcony

•

Eye to Eye in the Secret Room

•

Switch Star of the Basement

Hazy Maze Cave

Swimming Beast in the Cavern

•

Elevate for 8 Red Coins

•

Metal-Head Mario Can Move!

(N64)/

Metal-Head Wario Can Move

(DS) •

Navigating the Toxic Maze

•

A-Maze-Ing Emergency Exit

•

Watch for Rolling Rocks

•

Underground Switch Star

Lethal Lava Land

Boil the Big Bully

•

Bully the Bullies

•

8-Coin Puzzle with 15 Pieces

•

Red-Hot Log Rolling

•

Hot-Foot-it into the Volcano

•

Elevator Tour In the Volcano

(N64)/

Inside the Volcano

•

Flaming Silver Stars

(DS)
Shifting Sand Land

In the Talons of the Big Bird

•

Shining Atop the Pyramid

•

Inside the Ancient Pyramid

•

Stand Tall On the Four Pillars

•

Free Flying For 8 Red Coins

(5th Star, N64) (7th Star, DS) •

Tox Box Switch Star

(DS) •

Pyramid Puzzle

Dire, Dire Docks

Board Bowser's Sub

•

Chests in the Current

•

Pole-Jumping for Red Coins

•

Through the Jet Stream

•

The Manta Ray's Reward

(5th Star, N64) (7th Star, DS) •

Koopa Surfin' Switch Star

(DS) •

Collect the Caps...

(N64)/

Inside the Cage

(DS)
Snowman's Land

Snowman's Big Head

•

Chill with the Bully

•

In the Deep Freeze

(N64) •

Yoshi's Ice Sculpture

(DS) •

Whirl from the Freezing Pond

•

Shell Shreddin' for Red Coins

(N64) •

Snowman's Silver Star

(DS) •

Into the Igloo

•

Red Coins in the House

(DS)
Wet-Dry World

Shocking Arrow Lifts!

•

Top o' the Town

•

Secrets in the Shallows and Sky

(N64)/

5 Secrets in the Shallows and Sky

(DS) •

Express Elevator--Hurry Up!

•

Go to Town for Red Coins

(N64)/

Go to Town for the Red Coins

(DS) •

Quick Race Through Downtown!

•

Soaked Silver Stars

(DS)
Tall, Tall Mountain

Scale the Mountain

•

Mystery of the Monkey Cage

•

Scary 'Shrooms, Red Coins

•

Mysterious Mountainside

•

Breathtaking View from Bridge

(Star 5, N64)/

Breathtaking View from the Bridge

(Star 7, DS) •

Blast to the Lonely Mushroom

(Star 6, N64) (Star 5, DS) •

5 Secrets of the Mountain

Tiny-Huge Island

Pluck the Piranha Flower

•

The Tip Top of the Huge Island

•

Rematch with Koopa the Quick

•

Five Itty Bitty Secrets

(N64) •

Klepto the Condor

•

Wiggler's Red Coins

•

Make Wiggler Squirm

•

Switch Star of the Island

(DS)
Tick Tock Clock

Roll into the Cage

(N64) •

Luigi in the Cage

(DS) •

The Pit and the Pendulums

(N64) •

The Pendulum Switch Star

(DS) •

Get a Hand

•

Stomp on the Thwomp

•

Timed Jumps on Moving Bars

•

Stop Time for Red Coins

•

Tick Tock Silver Stars

Rainbow Ride

Cruiser Crossing the Rainbow

•

The Big House in the Sky

•

Coins Amassed in a Maze

•

Swingin' in the Breeze

•

Tricky Triangles!

•

Somewhere over the Rainbow

•

Switch Star of the Manor

Items and Objects
Items
Power Flower • Vanish Cap • Metal Cap • Key • Power Star • Koopa Shell • Silver Star • Wing Cap
Objects
Mario's Cap •

Luigi Cap

•

Wario Cap

• ! Block •

Star Switch

• Red Switch • Cannon • Coin • Red Coin • Blue Coin • Bowser Key
Characters
Protagonists
Mario • Luigi • Princess Peach
Antagonists
Bowser • Bowser Jr. • Koopalings • Kamek
Supporting Characters
Princess Peach • Yoshi • Toad
Worlds
World 1
World 1-1 • World 1-2 • World 1-3 • World 1- • World 1- • World 1-4 • World 1-5 • World 1-6 • World 1-
World 2
World 2-1 • World 2-2 • World 2-3 • World 2- • World 2-4 • World 2-5 • World 2-6 • World 2-
World 3
World 3-1 • World 3-2 • World 3-3 • World 3- •

World 3-

• World 3- • World 3-4 • World 3-5 • World 3-
World 4
World 4-1 • World 4-2 • World 4-3 • World 4- •

World 4-

• World 4-4 • World 4- • World 4-5 • World 4- • World 4-
World 5
World 5-1 • World 5-2 • World 5-3 • World 5- • World 5-4 • World 5- •

World 5-

• World 5-5 • World 5-
World 6
World 6-1 • World 6-2 • World 6-3 • World 6-4 • World 6- • World 6-5 • World 6-6 •

World 6-

• World 6- • World 6-
World 7
World 7-1 • World 7-2 • World 7-3 • World 7- • World 7- World 7-4 • World 7-5 • World 7-6 • World 7-
World 8
World 8-1 • World 8-2 • World 8-3 • World 8- • World 8-4 • World 8-5 • World 8-6 • World 8-7 • World 8- • World 8-
World 9
World 9-1 • World 9-2 • World 9-3 • World 9-4 • World 9-5 • World 9-6 • World 9-7 • World 9-8
Coin Courses
World

Coin

-1 • World

Coin

-2 • World

Coin

-3 • World

Coin

-4 • World

Coin

-5
Enemies
Enemies
Amp • Banzai Bill • Banzai Bill Cannon • Big Boo • Big Piranha Plant • Big Venus Fire Trap • Bill Blaster • Bill Blaster Turret • Baby Blooper • Blooper • Blooper Nanny • Bob-omb • Boo • Boomerang Bro • Bramball • Broozer • Bulber • Bullet Bill • Buzzy Beetle • Cannonball • Chain Chomp • Cheep Cheep • Cheep Chomp • Circling Boo Buddies • Clampy • Climbing Koopa • Cooligan • Crowber • Deep Cheep • Dry Bones • Eep-Cheep • Fire Bro • Fire Snake • Fish Bone • Flame Chomp • Foo • Fuzzy •

Ghost Vase

•

Giant Cannonball

• Goomba • Grand Goomba • Hammer Bro • Heavy Parabeetle • Hefty Goomba • Huckit Crab • Ice Bro • Jellybeam • King Bill • Koopa Paratroopa • Koopa Troopa • Lakitu • Mechakoopa • Mega Cheep Cheep • Mega Deep Cheep • Mega Fuzzy • Mega Urchin • Mega Wiggler • Micro Goomba • Missile Banzai Bill • Missile Bill • Monty Mole • Muncher • Para-bomb • Para-Beetle • Paragoomba • Piranha Plant • Podoboo • Pokey • Porcupuffer • River Piranha Plant • Rocky Wrench • Scaredy Rat • Sledge Bro • Spike • Spike Top • Spiny • Spiny Cheep-Cheep • Stalking Piranha Plant • Stone Spike • Super Dry Bones • Super Thwomp • Swooper • Thwomp • Urchin • Venus Fire Trap • Wiggler
Obstacles
Ball 'n' Chain • Burner • Fire Bar • Icicle • Lava Plume • Spike Pillar • Spiked Ball • Volcanic Debris • Volcanic Smoke
Bosses
Bowser Jr. • Larry Koopa • Roy Koopa • Lemmy Koopa • Wendy O. Koopa • Iggy Koopa • Morton Koopa Jr. • Ludwig von Koopa • Kamek • Bowser
Items and objects
Items
Super Mushroom • 1-Up Mushroom • Mini Mushroom • Propeller Mushroom • Fire Flower • Ice Flower • Penguin Suit • Starman • Coin • Blue Coin • Red Coin • Red Ring • Hidden Coin • Star Coin • Trampoline • POW Block • Light Block • Propeller Block • P Switch • ? Switch • Red ! Switch • Barrel •

Toad Balloon

• Berry
Objects

Clown Car

•

Stretch Block

• Roulette Block •

Square Cloud

• Checkpoint Flag
Characters
Playable characters
Mario • Luigi • Yellow Toad • Blue Toad* • Toadette** • Nabbit**/*** • Mii*
Supporting characters
Princess Peach • Toad • Green Yoshi • Baby Yoshi (Balloon, Bubble, Glowing)
Bosses
Koopalings (Lemmy Koopa, Morton Koopa Jr., Larry Koopa, Wendy O. Koopa, Iggy Koopa, Roy Koopa, Ludwig von Koopa) • Bowser Jr. • Bowser
Enemies and obstacles
Enemies
Amp* • Baby Blooper* • Baby Dragoneel* • Ball 'n' Chain • Banzai Bill • Big Amp* • Balloon Goomba* • Big Boo • Big Buzzy Beetle* • Big Piranha Plant • Big Venus Fire Trap** • Blooper • Blooper Nanny* • Bob-omb • Bony Beetle • Boo • Boomerang Bro • Bowser Amp • Bramball • Broozer • Bulber* • Bullet Bill • Buzzy Beetle • Chain Chomp • Cheep Cheep • Cheep Chomp • Circling Boo Buddies • Cooligan • Deep Cheep** • Dragoneel • Dry Bones • Eep Cheep • Fire Bro • Fire Snake • Fish Bone • Flame Chomp • Fliprus • Foo • Fuzzy • Gargantua Koopa Troopa • Goomba • Goombrat • Grand Goomba • Grrrol • Hammer Bro • Heavy Parabeetle • Hefty Goomba • Huckit Crab • Ice Bro • Jellybeam* • King Bill • Koopa Paratroopa • Koopa Troopa • Lakitu • Lava Plume • Magmaargh • Magmaw • Mecha Cheep* • Mecha Hand • Mechakoopa • Mega Cheep-Cheep • Mega Deep-Cheep** • Mega Eep-Cheep** • Mega Fuzzy • Mega Grrrol • Mega Urchin • Mega Wiggler •

Meteor

• Micro Goomba • Missile Bill • Monty Mole • Muncher • Nabbit • Para-Beetle • Parabomb • Paragoomba* • Piranha Plant •

Piranha Plant Egg

• Piranhacus Giganticus • Podoboo • Pokey • Porcupuffer •

Prickly Goomba

• Red Skull Box • River Piranha Plant • Rocky Wrench* • Scaredy Rat* • Sledge Bro • Spike • Spike Top • Spiked Ball • Spiny • Spiny Cheep-Cheep • Stalking Piranha Plant • Stone Spike • Sumo Bro • Super Dry Bones • Super Thwomp • Swooper* • Targeting Ted • Thwimp* • Thwomp • Torpedo Ted • Urchin • Venus Fire Trap • Venus Ice Trap • Waddlewing • Wiggler
Obstacles
Ball 'n' Chain • Banzai Bill Cannon • Bill Blaster • Bill Blaster Turret • Burner • Cannon • Cannonball* • Fire Bar •

Ghost Block

•

Giant Cannonball

• Huge Fire Bar • Icicle • Lava • Lava Plume • Poisoned Water • Red Skull Box • Skull Box* • Spiked Ball • Spike Pillar • Spiny Egg
Worlds and levels
Acorn Plains
Acorn Plains Way • Tilted Tunnel • Crushing-Cogs Tower • Yoshi Hill • Mushroom Heights • Rise of the Piranha Plants • Lemmy's Swingback Castle • Blooper's Secret Lair • Waddlewing Warning!*** • Crooked Cavern*** •

Flame-Gear Tower

*** • Rolling Yoshi Hills*** • Piranha Heights*** • Piranha Gardens*** • Lemmy's Lights-Out Castle*** • Cheep Chomp Chase***
Layer-Cake Desert
Stone-Eye Zone • Perilous Pokey Cave • Fire Snake Cavern • Stoneslide Tower • Spike's Spouting Sands • Dry Desert Mushrooms • Blooming Lakitus • Morton's Compactor Castle • Piranha Plants on Ice • Piranha Plants on Ice • Spike's Tumbling Desert*** • Underground Grrrols*** • Piranhas in the Dark*** • Wind-Up Tower*** • The Walls Have Eyes*** • Stone Spike Conveyors*** • Spinning Sandstones*** • Morton's Lava-Block Castle*** • Slippery Rope Ladders***
Sparkling Waters
Waterspout Beach • Tropical Refresher • Giant Skewer Tower • Haunted Shipwreck • Above the Cheep Cheep Sea • Urchin Shoals • Dragoneel's Undersea Grotto • Larry's Torpedo Castle • Skyward Stalk • Huckit Beach Resort*** • Urchin Reef Romp*** • Shish-Kebab Tower*** • Haunted Cargo Hold*** • The Great Geysers*** • The Great Geysers*** • Dragoneel Depths*** • Larry's Trigger-Happy Castle*** • Beanstalk Jungle***
Frosted Glacier
Spinning Star Sky • Cooligan Fields • Freezing Rain Tower • Prickly Goombas! • Scaling the Mountainside • Icicle Caverns • Swaying Ghost House • Fliprus Lake • Fliprus Lake • Broozers and Barrels*** • Cooligan Shrooms*** • Icicle Tower*** • Fire and Ice*** • Weighty Waddlewings*** • Ice-Slide Expressway*** • Peek-a-Boo Ghost House*** • Wendy's Thwomp Castle*** • Fliprus Floes***
Soda Jungle
The Mighty Cannonship† • Jungle of the Giants • Bridge over Poisoned Waters • Bramball Woods • Snake Block Tower • Which-Way Labyrinth • Painted Swampland • Deepsea Ruins • Seesaw Bridge • Wiggler Stampede • Iggy's Volcanic Castle • Flight of the Para-Beetles • All Aboard!†/*** • Giant Swing-Along*** • Dancing Blocks, Poison Swamp*** • Heart of Bramball Woods*** • Stone-Snake Tower*** • Stone-Snake Tower*** • Painted Pipeworks*** • Deepsea Stone-Eyes*** • Sumo Bro Bridge*** • Wiggler Floodlands*** • Iggy's Swinging-Chains Castle*** • Para-Beetle Parade***
Rock-Candy Mines
Fuzzy Clifftop • Porcupuffer Falls • Grinding-Stone Tower • Waddlewing's Nest • Light Blocks, Dark Tower • Walking Piranha Plants! • Thrilling Spine Coaster • Screwtop Tower • Screwtop Tower • Roy's Conveyor Castle • Mount Fuzzy*** • Porcu-Puffer Cavern*** • Smashing-Stone Tower*** • Spike's Seesaws*** • Light-Up-Lift Tower*** • Rising Piranhas*** • Spine Coaster Stowaways*** • Sumo Bro's Spinning Tower*** • Switch-Lift Express*** • Roy's Ironclad Castle***
Meringue Clouds
Land of Flying Blocks • Seesaw Shrooms • Switchback Hill • Slide Lift Tower • Spinning Spirit House • Bouncy Cloud Boomerangs • A Quick Dip in the Sky • Snaking Above Mist Valley • Ludwig's Clockwork Castle • Boarding the Airship • Frozen Fuzzies*** • Wiggler Rodeo*** • Rainbow Skywalk*** • Stonecrush Tower*** • Vanishing Ghost House*** • Above the Bouncy Clouds*** • Flame Chomp Ferris Wheel*** • Three-Headed Snake Block*** • Ludwig's Block-Press Castle*** • Bowser Jr. Showdown***
Peach's Castle
Meteor Moat • Magma-River Cruise • Rising Tides of Lava • Firefall Cliffs • Red-Hot Elevator Ride • The Final Battle • Magma Moat*** • Magmaw River Cruise*** • Hot Cogs*** • Firefall Rising*** • Current Event*** • The Final Battle***
Superstar Road
Spine-Tingling Spine Coaster • Run for It • Swim for Your Life! • Hammerswing Caverns • Spinning Platforms of Doom • Fire Bar Cliffs • Lakitu! Lakitu! Lakitu! • Pendulum Castle • Follow that Shell! • Spine Coaster Connection*** • P Switch Peril*** • Star Coin Deep Dive*** • Hammerswing Hangout*** • Under Construction*** • Fire Bar Sprint*** • Cloudy Capers*** • Impossible Pendulums*** • Flying Squirrel Ovation***

Coin Courses

World

Coin

-

1

• World

Coin

-

2

• World

Coin

-

3

• World

Coin

-

4

• World

Coin

-

5

• World

Coin

-

6

• World

Coin

-

7


• World

Coin

-

8

Other
Secret Island
Collectibles and objects
Power-ups
Fire Flower • Ice Flower • Mini Mushroom • Penguin Suit • Propeller Mushroom • Starman • Super Acorn (

P-Acorn

) • Super Crown** • Super Mushroom (Boost Star)
Items
? Switch • ! Switch • 1-Up Mushroom • 3-Up Moon • Berry • Blue Coin • Boost Star • Coin • Dash Coin • Green Coin • Red Coin • Star Coin • Yoshi Egg
Objects

3-Up Moon Block

• Barrel • Beanstalk • Boost Block • Brick Block •

Cannon Pipe

• Checkpoint Flag • Coin Block • Donut Lift • Flying Question Block •

Giant Brick Block

•

Giant Question Block

•

Giant Snake Block

• Goal Pole • Green Ring • Ice Block • Light Block • Note Block • POW Block • P-Switch • Question Block • Red Ring • Roulette Block • Snake Block •

Super Guide Block

• Springboard •

Stretch Block

• Vine • Warp Door •

Water Pipe

• Water Bubble •

Wooden Block

Miscellaneous
Other
Bonecoaster •

Current

• Floating Jump • Koopa Clown Car • Lava • Poisoned Water • Quicksand • Sand Geyser •

Stone-Eye

• Volcanic Smoke • Waterspout
Info
Gallery (

Luigi U

/Deluxe)
*-Exclusive to New Super Mario Bros. U • **-Exclusive to New Super Mario Bros. U Deluxe • ***-Exclusive to New Super Luigi U
†-Level before the world
Characters
Playable characters
Mario • Luigi • Princess Peach • Yoshi
Antagonists
Bowser • Bowser Jr. • Koopa Kid
Supporting characters
Akiki •

Amp

•

Blooper

• Bob-omb • Bob-omba •

Boo

•

Britney

•

Bullet Bill

•

Chain Chomp

•

Cheep Cheep

•

Coach

•

Dolphin

• Dorrie •

Flutter

•

Fly Guy

•

Goomba

• Goombetty • Goombob •

Hammer Bro

• Hoot •

Huffin Puffin

•

Hulu

•

Jack

• Kamek •

Kamek Krew

• King Bob-omb •

Klepto

•

Koopa

•

Lakitu

•

Lantern Ghost

•

Mechakoopa

•

Monty Mole

• Mouser •

Mr. Blizzard

•

Mr. E

•

Mr. I

•

Mrs. Shroomlock

•

Mushbert

•

Naval Piranha

•

Ninji

•

Paratroopa

•

Penguin

•

Petal Guy

•

Piranha Plant

•

Pokey

• Poochy • Professor Elvin Gadd • Salvo the Slime •

Shroomlock

•

Shy Guy

•

Snifit

•

Spear Guy

•

Spore King

•

Sushi

• Toad •

Toady

• Toadette •

TFV Fan Club

•

Thwomp

•

Toxic Toad Z

• Tumble •

Ukiki

•

Whomp

Species
Amp • Bob-omb • Boo • Bullet Bill • Chain Chomp • Cheep Cheep • Goomba • Goomba (Super Mario World) • Hammer Bro • Koopa Troopa • Mr. Blizzard • Piranha Plant • Podoboo • Pokey • Rabbit • Sheep • Shy Guy • Spear Guy • Toad • Thwomp • Ukiki
Minigames
Single-player

Amplifried

• Barrel Peril •

Big Popper

•

Bill Bounce

•

Bob-OOOM!

• Boo-Bye •

Broom Zoom

•

Bunny Belt

•

Chomp Walker

•

Cloud Climb

•

Dreadmill

• Flingshot •

Flippin' Out

•

Floor It!

•

Forest Jump

•

Go-go Pogo

•

Grabbit

•

Koopa Krunch

•

Melon Folley

•

On the Spot

•

Outta My Way!

•

Pest Aside

•

Reel Cheep

•

See Monkey?

•

Shell Stack

•

Sled Slide

•

Sort Stack

•

Spooky Spike

•

Stompbot XL

•

Switch Way?

Duel

Chain Saw

•

Chicken!

•

Hammergeddon

•

Koopa Kurl

•

Slammer

•

Stair Scare

•

Tank-Down

•

Volleybomb

Bowser

Crushed Ice

•

Koopa Kappa

•

Mush Rush

•

Peek-n-Sneak

•

Splatterball

•

Trap Floor

Gamble

Drop 'Em

•

Match 'Em

•

Pair 'Em

•

Stop 'Em

•

Watch 'Em

•

Scratch 'Em

Items
Items

Bracelet

•

Coal

•

DVD

•

Golden Boo Statue

•

Lovely Seashell

•

Necklace

•

Poem of Love

•

Ring

•

Ticket

•

Toad Force V Figure

Spaces
Spaces

Dice Space

•

E. Gadd Space

•

Mini-game Space

• Minus Space •

Pipe Space

• Star Space •

Star Warp Space

•

Yellow Space

Gaddgets
Gaddgets
4-P Pinball • Attack Frog •

Bait 'n Wait

•

Bead Machine

•

Block Punch

•

Bomb Game

•

Bonus Track

•

Bowser Poster

•

Bowser Print

•

Breeze Buddy

•

Bull's-eye

• Cake Maker •

Card Trick

•

Castle Night

•

Chicken Race

•

Coin Poster

• Compat-I-Com •

Credits

•

Dart Attack

• Desktop Golf • Dessert Menu •

Digitizer

•

Egg Panic

•

Egg Roll

•

Eye Exam

• Faux Flame •

Heart Poster

•

Hope Chest

•

Hourglass

• Jewelry Case •

Love Me Not

•

Lip Sync

•

Magic Lamp

•

Map Maker

•

Mini B-Ball

• Mini Bowling •

Mini Maze

•

Mini Slugger

•

Mini Soccer

•

Moon Poster

•

Morse Maker

•

Passport+

• Poochy Pal •

Porta-Gust

• Power Star •

Predictotron

•

Pretty Poster

• Rochambeau • Screen Clean •

Shroom Bloom

•

Shroom Drop

•

Shroom Slide

• Snooze Ewes •

Snow Globe

•

Soil Sonar

•

Stick to It

•

Stress Press

•

Sun Poster

•

Tap-Tap Sumo

•

Tile Trial

•

Toad Force V

Miscellaneous
Other

Gallery