The Blue Seven is a kart that appears in the Mario Kart series. It resembles a 1960's prototype race race, with a "7" printed on the gold-yellow spoiler. It is similar to Luigi's Streamliner and the Jetsetter from Mario Kart DS and Mario Kart Wii respectively.
Appearances
In the Mario Kart series
In Mario Kart 7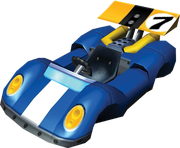 The Blue Seven debuted in Mario Kart 7, as a unlockable kart body. It offers a boost in speed and weight, whilst lowering acceleration and handling. In terms of hidden stats, it also lowers air speed, mini-turbo and drift.
A computer-controlled Mario, Luigi or Princess Peach may use the Blue Seven kart body. Mario or Luigi may equip the Blue Seven with Monster tires, and Peach may equip the Blue Seven with Mushroom or Sponge tires. They may use any glider, though they may often use the Super Glider or Paraglider (Parafoil).
The Expert Staff Ghost in Neo Bowser City (Koopa City) uses Metal Mario in the Blue Seven kart body, equipped with Monster tires and the Paraglider.
The Mach 8 from Mario Kart 8 and Mario Kart 8 Deluxe could be considered to be the Blue Seven's successor.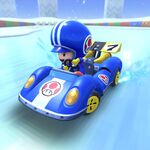 The Blue Seven appears as a kart in Mario Kart Tour, where it is classified as Super kart. Rocket Starts will last longer and earn more points for the player if it is used. It is equipped with the Standard tires from Mario Kart 8 and Mario Kart 8 Deluxe. The game also introduces a red-orange variant, which is called the Super 1, which just like the Blue Seven, is classified as a Super kart. However, it is exclusive to the Mario Bros. Tour.
Statistics
Blue Seven

Information
Type
Kart
Speed
+0.5
Sea Speed
-0.5
Air Speed
-0.25
Acceleration
-0.5
Weight
+0.25
Handling
-0.25
Sea Handling
0
Air Handling
0
Off-Road
0
Mini Turbo
-0.5
Stability
0
Drift
-0.25
Gallery
See also:
External links
Community content is available under
CC-BY-SA
unless otherwise noted.