Birthday Girl (バースデーガール Birthday Girl?) is also known as the Royal Ribbon in the British English version. The Birthday Girl is one of the kart body parts in Mario Kart 7.
Description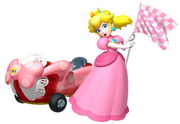 The Birthday Girl is a kart body. The kart body has feminine features including: spots and a ribbon. The Birthday Girl is simple to accelerate and handle, but difficult to control speed and off-road. However, its weight is easy for heavy karts to push.
In Mario Kart Tour, the Birthday Girl no longer changes its colorization.
Color schemes
The Birthday Girl can change color depending on the character. Its default color scheme is a pink top and red underside with light pink spots. The Birthday Girl uses the default color scheme when Peach, a Mii, and male characters use the kart body. However, the Birthday Girl changes color scheme when either three female characters use it:
Appearances
Mario Kart 7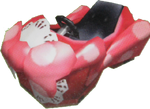 The Birthday Girl is a standard kart body in Mario Kart 7. Like the Peach Parasol, it changes color schemes when Daisy, Rosalina or Honey Queen uses it.
Mario Kart Tour
The Birthday Girl will reappear in Mario Kart Tour as a kart body. Like the Birthday Girl, all kart bodies, gliders and tires from previous installments will return to the game.[1] The Birthday Girl will ise its default colorisation, no matter which driver uses it.
Non-canonical appearances
Non-canon warning: This article or section contains non-canonical information that is not considered to be an official part of the Mario series and/or isn't considered to be part of the series' overall storyline.
Super Smash Bros. for Nintendo 3DS
The Birthday Girl made a cameo appearance on the Peach + Birthday Girl trophy in Super Smash Bros. for Nintendo 3DS. Princess Peach, Peach Parasol and Mushroom tires appeared along with the Birthday Girl.
Game data
Mario Kart 7
Statistics
Speed
-0.5
Sea Speed
+0.5
Air Speed
+0.5
Acceleration
+0.5
Weight
-0.25
Handling
+0.5
Sea Handling
0.25
Air Handling
0.25
Off Road
-0.25
Mini-Turbo
0.5
Stability
0
Drift
0.25
Super Smash Bros. for Nintendo 3DS

Peach + Birthday Girl

Peach + Royal Ribbon

Princess Peach, where are you off to with that pink parasol? A day at the beach? More like a day at the races! Her tough and unconventional karts are ready, and she wants to take the checkered flag. Expect to see Peach win and be elegant at the same time.
The next race is about to start, but who's going to come out on top? Will it be Peach, with her lovely Peach Parasol? She's customised her kart to be both tough AND cute, because she's not just aiming to win - she's aiming to win in style!
Trivia
Gallery
References
See also:
External links
Community content is available under
CC-BY-SA
unless otherwise noted.