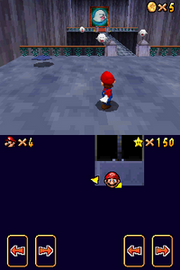 Big Boo Battle
is an exclusive location in
Super Mario 64 DS
. After 15 stars Mario must go to
Big Boo's Haunt
and go to the third floor near the balcony and enter the Luigi painting and has to listen to the Boo's laughter. If the player uses the wrong door or falls off they return to the beginning and don't lose a life. Once Mario reaches the end, he'll get warped into a hole and fall into a room with a mirror reflection. Then
King Boo
will come out. He's mistakenly called Big Boo. Mario must hit him three times. This boo can spit fire. Upon defeating King Boo, Mario earns the key to unlock Luigi. If
Wario
battles him, he says his face could scare a ghost.
Stars
1. Red coins. One of them is under a black brick, that Wario can break.
2. Luigi must use a power flower to go through the ghost painting at the end and earn another star.
Trivia

The room where King Boo is fought in resembles a Nintendo DS as shown on the map.
Community content is available under
CC-BY-SA
unless otherwise noted.