Beanbean Kingdom is the monarch neighbor kingdom of the Mushroom Kingdom and is only explored in Mario & Luigi: Superstar Saga and Mario & Luigi: Superstar Saga + Bowser's Minions. It's ruled by the overweight, Beanish Queen Bean and her famed son Prince Peasley. Its capital, set forth by Mario and Luigi: Superstar Saga is Beanbean Castle Town. The center of the government and residence of Queen Bean and Prince Peasley is Beanbean Castle.
Inhabitants
The predominant indigenous species are the "Beanish" who homeland it is, although there are other species such as the "Hoohooligans" who live on Hoohoo Mountain and the "Yoshi (species)" who immigrated from Dinosaur Land to the Mushroom Kingdom and Isle Delfino, then later immigrate to Beanbean Kingdom.
Currency
The currency of the Beanbean Kingdom is the same as the Mushroom Kingdom's: coins. But according to Tolstar, king of Stardust Fields, calculating the value of the Mushroom Kingdom coins with Beanbean Kingdom coins, a 100 Mushroom coins are worth 10 Beanbean coins. However, later in the game, Prince Peasley wagers 999,999,999,999,999,999 Mushroom Kingdom coins against Mario and Luigi, in a race to see who will find the four parts of the Beanstar. Mario and Luigi win and are ecstatic when claiming their prize, only to find out from Lady Lima that at the current exchange rate, the coins are only worth 99 Beanbean Kingdom coins.
Locations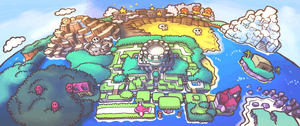 Bowser Flying Cruiser
Though not an official area of the game, this is where the game officially begins where this flying fortress is taking Mario and Luigi, Bowser and his minions to the Beanbean kingdom, but when crossing the border of both kingdoms, Cackletta and her minion, Fawful, introduce themselves in a short fight followed by the fortress's crash. This area latter appears where Luigi, disguised as Princess Peach is taken by Bowletta after the events in Joke's End, the cruiser now, shows a wrecked look, with hand-made mends and several holes in the wall, so as flying slightly awkwardly.
The Stardust Fields are the border region between the Beanbean Kingdom and the Mushroom Kingdom. It contains barrels and fallen stars, hence it's title. It's the home, or at least the guard post, of the Starshade Bros. It is ruled by Tolstar, king of Stardust Fields. This odd purple-surfaced place is mostly in the Beanbean Kingdom, but some of it is actually in the Mushroom Kingdom; these are called the Beanbean Borderlands. The Beanbean Borderlands is the first place that Mario and Luigi visit when Bowser's Koopa Cruiser crashed, and it's also the first major world of the game. The two sides are separated by the Border Bros., who're similar to the Hammer Bros.. To cross the border, travelers must complete a round of jump rope. Mario and Luigi can also return to do the Border Jump again in exchange for Hee Beans. However, once the Mushroom Side is crossed, there isn't any turning back.
It's a large mountain in the north part of the Beanbean Kingdom that Mario and Luigi visit in Mario & Luigi: Superstar Saga. Most of its inhabitants are the Hoohooligans with their houses on the bridges near the giant waterfall cascading from the top. Their ancient civilisation can be seen throughout the mountain, as well as their jokes inscribed on the rocks in the form of Hooroglyphs, their Hoohooros, and the watering holes used as fountains. At the summit, there is a nest of Hoohoo Blocks, which are used by the Hoohooligans to make hammers. From there, Mario and Luigi can see the entire of the Mushroom Kingdom, even Princess Peach's Castle. Blablanadon, a talking pterosaur, lives in the nest. The Guffawha Ruins is located on the mountain's base.
It's a village at the base of Hoohoo Mountain. Their inhabitants are - like with Hoohoo Mountain - the Hoohooligans. There are many caves and passageways linking to different places in the village. Sledge and Mallet - the Hammer Bros. - made their home here. However, they quickly moved to East Beanbean later in the game. Blablanadon lives here, and serves as transport to the top of the mountain.
It's the capital of Beanbean Kingdom. It is a small town divide into two by a small river. It has two shops; one for clothing, and the other one is a cafe for food. The rest are houses. The town was attacked by Cackletta twice; first off when she was going to steal the Beanstar, and secondly when she had command over Bowser's Castle. Beneath the ground are ten Beanstones which has to be dig out. The town is mostly populated with the Beanish, but there's also the occasional Koopa atop the houses.
It's the center of government of the Beanbean Kingdom and residence of Queen Bean and Prince Peasley. This one-tower castle guards the Beanstar, and it has a security system to guard the Beanstar; which in actual fact are the Beanbean Sewers beneath the castle. It's got a library, the Throne Room where the reunions are set and the inner garden and it is surround by Beanbean Castle Town.
A dense ecological reserve of chuckle fruits used to brew the chuckle soda, some slightly alcoholic beverage, done by brewing with jokes the chuckle fruit in a syrup, Mario and co. go deep in the forest searching for the chuckle soda able to cure the Queen Bean from the bellybleach worm. The forest itself is watched over by Chuckleroot. Bubbles, the Chuckle Soda Inc. founder lives deep in the forest brewing soda since 1000 years ago. There is also an area known as the Winkle Colosseum where the snail-like race Winkles live. It is located on the far left side of Chucklehuck Woods.
A complex of laboratories devoted to studies including the block research departments, its the place where Cackletta was using robots to speak in peach's voice to awake the star, and also where Mario and co. fight Cackletta by first time, the academy has a complex set of mirrors to unlock rooms, unlocking all rooms will lead to unlock the last room (the main lab) where is Cackletta and after that, the second fight against Popple and Bowser.
A small island in the middle of the ocean connected by a pipe to the seabed where Mario and Luigi where forcibly sent by falling from a rising, "upset" Beanbean star, it holds the fire and thunder sanctuaries, inhabited by small, rounded blue and red peoples who usually talk in incoherent sentences (such as "I am me"), the island's entrance from mainland is only opened when the player reaches it by inside, opening the area for any further visit. its also the first time the underwater area is nostalgically introduced.
As the name suggests, its the Beanbean Kingdom international airport, where Mario and Co. fight the piranha plants blocking the landing road so Peach's plane can land
A big, desert valley that was once an ocean (hence the fish, shells and starfishes skeletons mixed in the sandy ground), where Mario and Co. escort Peach to its end, where resides Little Fungitown, taking care of monsters who tries to kidnap Peach, the Teehee Valley offers access to the Guffawha ruins east Fungitown and to S.S. Chuckcola later in the game.
An immigrant community from Mushroom Kingdom residing in extremely tall mushrooms way above Teehee Valley, inhabited by toads, though they have a different color and brown skin, and they respect both Peach and Beanbean queen as their monarchs, the town also holds a hospital.
A set of ruins Luigi must go deep searching an herb to cure Mario, these ruins seem to hold history of a civilization different from the Hoohooligans, decorated with pillars bearing a smiling face at top, the ruins holds a stone-head monster who is actually very calm and asks Luigi some kind of game to relieve his stress, very different of how he is depicted by Fungitown's toads. This area can only be accessed by Luigi (as the elevator can only lift one person) but can be latter revisited by breaking the stones in the way (that requires the last upgrade of the hammer, achieved later in the game), There is also a portion of this area accessed straight below the Teehee Valley where Luigi accidentally sinks and both Mario and Luigi fights Popple by the last time.
A ship with Chuckcola cargo stuck in the sandy Teehee Valley due to the ocean retracting, the remaining crew becoming the living skeletons working in the ship, and a monkey skeleton who loads the barrel cargo minigame. The ship is later pushed to the sea due to an explosion in the back and later sinks crashing into a rock, going back to its eternal static position, but now underwater. After completing the ship's stage, its no longer accessible, but the minigame can be later played again in Little Fungitown's arcade (a broken one, now fixed).
A lagoon island surrounded by rocks, it holds the Jellyfish sister's spa where Mario and co. learns new tricks to the fire/thunder hands, its also a famous surfing spot where Hermit III lives, a huge hermit crab who is and famous among the surfers, especially after decorate his shell like a Christmas tree, its where Mario and co. gets their first bean star's piece.
Three areas, each one bearing a piece from the bean star, in the first in the kingdom's south, lives a famous stylist who design clothes shooting colored, paint bo-oms in the clothe to put colors and patterns, the second one, North, is a movie theater dedicated to Yoshis by bubbles younger brother, and the last one is a snail's colosseum deep in Chucklehuck's woods.
One of the strongest contrast with Beanbean kingdom, an icy sanctuary symbolized by a sad, desperate face, guarded by an ice-like beanmaid, Jojora, its a mountain-sized sanctuary inhabited by flying Koopas and where it can be found some kind of laughing soup, its the place where Bowletta waits Mario and co. It was described by Bowletta as "the crypt for crude jokes". It's icy architecture might be a pun in the Japanese expression that a crude joke is called "icy cold".
Bowser's Flying Fortress
Though not an original area in Beanbean Kingdom, its the last area in the game, bearing the final boss fight, the fortress is an exactly smaller bowser's castle with a throne room, lava paths and bowser's minions such as Boos, Shy Guys and Magikoopas, and even bowser's children, later, after the final fight, the castle is blown up and sinks in the sea, but the explosion sends bowser flying (a comical relief shows bowser crashing into the GBA's screen, making some cracks appear, and when he appears again from inside the giftbox, he sneezes suggesting he fell in the ocean as well)
Trivia
This kingdom also has the theme of laughs, as almost all places are named after laughs (such as chuckles, haha, teehee).
The area Jokes End is the only one (except Bowser's fortress, as it's not part of the kingdom geography) skipping this laughs theme, as its an opposite area, an area of sadness and despair, as the name suggest, its the end of the joke, just as its the last area visited in the game belonging to the kingdom.
This game also started a small trend followed by its sequels of introducing characters with a noticeable French accent (in this case, the two brothers in Chucklewoods reserve)
This game has several references to the classic game Super Mario Bros., with elements such as Little Fungitown designed as a famous stage, a Gorilla Skeleton in a barrel cargo, like Donkey Kong, the hospital in Little Fungitown shaped like the stages 1, 2 and 3 castle in the old game complete with a flag pole, and a small mini stage inside Bowser's fortress where Mario enters alone, shaped like the classic Bowser's castle, complete with a Bowser's doll that falls in the lava pit.
The Beanbean Kingdom is mentioned several times in Mario & Luigi: Dream Team by the Beanish folk that are vacationing there. It can be implied that the Beanbean Kingdom is also located close by the Pi'illo Kingdom.
Characters
Protagonists
Mario • Luigi • Princess Peach • Prince Peasley • Captain Goomba (Gold**) • Captain Shy Guy • Captain Boo (Gold) • Captain Koopa Troopa (Gold)
Antagonists
Cackletta/Bowletta • Fawful • Popple • Bowser/Rookie
Other Characters
Advisor • Beanbean Knight • Bink • Blablanadon • Bloat • Boddle • Boddle's Assistant • Border Bros. • Bowser • Bubbles • Chuckleroot • Cork and Cask • Fava • Fire and Thunder Gods • Guffawha Monster • Hammerhead Bros. • Harhall • Hermie III • Hoohoo Civilization • Jellyfish Sisters • Lady Lima • Mine Cart Owner • Peach-bot • Piper • Professor Elvin Gadd • Psycho Kamek • Queen Bean • Soybean Civilization • Spangle • Starfy • Starshade Bros. • Thwomp • Toad • Dr. Toadley • Toadsworth • Tolstar • Yoshi Fan Club
Species
Beanish • Beanlet • Designbomb • Hoohooligan • Oho Jee • Toad • Winkle • Yoshi
Locations
Locations
Beanbean Castle • Beanbean Castle Sewers • Beanbean Castle Town • Beanbean International Airport • Beanbean Kingdom • Bowser's Castle • Château de Chucklehuck • Chucklehuck Woods • Fire Palace • Guffawha Ruins • Gwarhar Lagoon • Harhall's Studio • Hoohoo Mountain • Hoohoo Village • Joke's End • Koopa Cruiser • Little Fungitown • Mario's House • Mushroom Kingdom • Oho Oasis • Oho Ocean • Oho Ocean Seabed • Pipe House • Relaxation Room • S.S. Chuckola • Starbeans Café • Stardust Fields • Teehee Valley • Thunder Palace • Winkle Colosseum • Woohoo Hooniversity • Yoshi Theater
Bosses
Bosses
Birdo • Bowletta⋆ • Bowser⋆ • Cackletta⋆ • Cackletta's Soul⋆ • Chuckolator⋆ • Corporal Paraplonk⋆⋆ • Dragohoho⋆ • Fawful • Hermie III⋆ • Hoohooros⋆ • Iggy Koopa⋆ • Jojora⋆ • Jojora's Friends⋆ • Larry Koopa • Lemmy Koopa • Ludwig von Koopa • Mom Piranha⋆ • Morton Koopa Jr. • Piranha Bean • Popple • Private Goomp⋆⋆ • Queen Bean⋆ • Rookie⋆ • Roy Koopa • Sergeant Guy⋆⋆ • Tolstar⋆ • Trunkle⋆ • Wendy O. Koopa • Wiggler⋆
Enemies
Enemies
Ankoopa • Anuboo • Bandit⋆⋆ • Beanie • Belly Blech⋆ • Big Boo⋆⋆ • Big Tail Goomba⋆⋆ • Bill Blaster⋆ • Blooper⋆ • Bob-omb • Bomb Boo⋆⋆ • Boo • Beanerang Bro • Boomerang Bro⋆⋆ • Broozer⋆⋆ • Buzzy Beetle⋆⋆ • Chain Chomp⋆⋆ • Chargin' Chuck⋆⋆ • Cheep Cheep • Chomp Bro⋆ • Chuck Guy • Chuckorok⋆ • Clumph • Dry Bones⋆⋆⋆ • Eeker⋆ • Elite Dry Bones⋆ • Elite Gritty Goomba⋆ • Elite Limbo Bro • Elite Pestnut • Elite Troopea • Fake Bowser⋆ • Fighter Fly⋆ • Fire Bro⋆⋆ • Flaret⋆ • Fly Guy⋆⋆ • Fuzzbush • Fuzzy • Glurp⋆ • Gold Beanie • Goomba • Goomba Tower⋆⋆ • Goomdiver⋆ • Green Magikoopa⋆⋆ • Gritty Goomba • Gunner Guy⋆ • Hammer Bro • Ice Bro⋆⋆ • Ice Snifit • Koopa Paratroopa⋆⋆ • Koopa Troopa⋆⋆ • Lakipea • Lakitu⋆⋆ • Laser Snifit⋆ • Limbo Bro • Magikoopa • Malibut⋆ • Mecha-Blooper⋆ • Mecha-Chomp • Mechakoopa • Mechawful⋆⋆ • Oucher Glass⋆ • Para-Beetle⋆⋆ • Parabeanie • Paragoomba⋆⋆ • Paratroopea • Pestnut • Piranha Plant⋆ • Pokey⋆⋆ • Puffer-Cheep • Red Magikoopa⋆⋆ • Rex • Roto-disc⋆ • Sand Cheep⋆ • Scaratroopea • Sharkbone⋆ • Sharpea • Shy Guy⋆⋆ • Sniper Bill⋆ • Spike⋆⋆ • Spiky Snifit⋆ • Spiny⋆⋆⋆ • Stalking Piranha Plant⋆⋆ • Starkiss • Super Fly⋆ • Sworm⋆ • Tail Boo⋆⋆ • Tanoomba • Time Bob-omb⋆ • Troopea • Turtle⋆ • Virus⋆ • White Magikoopa⋆⋆ • Yo Bro
Items
Regular Items
1-Up Mushroom • 1-Up Super • 5 Gold Coin • Beanbean coin • Coin • Golden Mushroom • Green Pepper • Max Mushroom • Max Nut • Max Syrup • Mushroom • Nut • Red Pepper • Refreshing Herb • Super Mushroom • Super Nut • Super Syrup • Syrup • Ultra Mushroom • Ultra Nut • Ultra Syrup
Key Items
Bean Fruit • Beanbean Brooch • Beanbean Map • Beanstar • Beanstone • Chuckola Fruit • Chuckola Reserve • Crabbie Grass • Fake Beanstar • Fire Statue • Game Boy Horror SP • Hoohoo Spirit • Invincishroom • Mask • Membership Card • Neon Egg • Peach's Extra Dress • Peasley's Rose • Pearl Bean • Precious Item • Red and Green Goblets • Secret Scroll 1 • Secret Scroll 2 • Suitcase • Winkle Card
Bean Juice
Chuckle Blend • Chuckoccino • Hoohoo Blend • Hoolumbian • Teehee Blend • Teeheespresso • Woohoo Blend
Special Items
Bonus Ring • Cobalt Necktie • Excite Spring • Game Boy Horror SP • Great Force • Greed Wallet • Power Grip • Secret Specs
Blocks
! Block • ? Block • Bros. Block • Command Block • Hidden Block • Hoohoo Block • L Block • M Block • Rally Block • Random Block • Recovery Block • Save Album • Simu-Block •

Spin Block

Other
Axe • Badge • Bean • Bean Fever • Bike Pad • Black Rock • Boo Statue • Brown Rock • Button • Candy ring • Mine Cart • Chuckola Cola • Clothing •

Conductor

•

Ghost Gown

• Gray Rock • Headgear • Koopa Clown Car • Poltergust 3000 •

Pressure Plate

•

Region Map

•

Rolling Bar Defense System

• Spiky Stardust Defense System • Super Poltergust 3001 • Toad Express •

Torch

•

Wall Face

• Waterspout •

Watering Hole

•

Yellow Pipe

Moves
Techniques
Bounce Bros. • Bros. Attack • Chopper Bros. • Cyclone Bros. • Fire Bros. • Hammer • Firebrand • Fire Tickle • Flee • High Jump • Jump • Knockback Bros. • Luigi Dunk • Mini-Mario • Pump Mario • Spin Jump • Splash Bros. • Swing Bros. • Thunder Bros. • Thunderhand • Thunder Tickle
Captain Commands**

Deny

•

Rally

•

Chance

•

Play Dead

• Lightning •

Parry

•

Pass the Bob-omb

•

Thwomp Thump

•

Clash of Captains

• Call for Backup •

Sneak Attack

•

Shell Shock

Minion Quest levels
Hoohoo Mountain

Go, Goomba, Go!

•

This Beans War

•

For the Love of Hammers

•

Winged Traitors

•

The Hoohoo Melee Brigade

•

The Great Hammer Barrage

•

Don't Fear Flying Foes

•

Goombas vs. Goombas

•

The Amnesiac Koopa King

•

Goombas Galore

Beanbean Kingdom

Turnip Tantrum

•

Minions vs. Minions

•

Hunger Pains

•

A War of Shy Guys and Flybys

•

Battle Tail

•

Beanbean Crossfire

•

The Rival Trio

•

Larry's Fortress

•

Captain Shy Guy Trial

•

Professor E. Gadd's Research

•

Oh, Hi, Shy Guy!

•

Shell Brigade, Move Out!

Chucklehuck Woods

The Sweet Smell of Soda

•

Deep Trouble

•

Forest Masquerade

•

Reclaim the Red Goblet!

•

Gold Beanie Appears

•

Invisible Leaderership

•

Ice Guys Finish Last

•

The Tough-As-Nails Squad

•

Forest Fight

•

Popple's Partner

•

Captain Goomba Trial (Gold)

•

Shy Guy Goes Overboard

•

King of the Boos

Gwarhar Lagoon

A Cloudy Day

•

The Minions Are...Famous?

•

Spangle's Honey Pie

•

Gold Beanie Returns

•

The Paraplonk Squad's Secret!

•

Battle Beach

•

Cutie Battle Contest, Round 1

•

Cutie Battle Contest, Round 2

•

Cutie Battle Contest, Semifinals

•

Captain Goomba Trial

•

The Power of Koopa Troopas

•

A Gaggle of Goombas

•

Captain Koopa Troopa Trial (Gold)

Teehee Valley

A Dry Bone to Pick

•

The Trouble with Toads

•

Flying Beans in the Desert

•

Find the Invincibility Mushroom!

•

Gold Beanie Spotted!

•

Silly Ol' Goomp

•

Ice Bros. Feel the Heat

•

The Lonely Koopa Troopa

•

Toad Rescue

•

Captain Koopa Troopa Trial

•

Popple's Partner, Part 2

•

A Goomba Tail

•

A Muster of Masks

Joke's End

Goombas Unite

•

Gather the Cruiser Parts!

•

Power Play

•

Spear Party on Ice

•

Monochrome Explosion

•

Gold Beanie Fights Back!

•

Return of the Koopa Cruiser

•

The Trio's Last Stand

•

Captain Boo Trial (Gold)

•

Boo Party!

•

Shy Guy Barrage

Bowser's Castle

Fireball and Boomerang Crossfire

•

Chain Chomp and Spike Stomp

•

A Tale of Tails

•

Double Trouble Koopaling Caper

•

Pokey Panic

•

Rumble in the Castle!

•

Gold Beanie's Final Stand

• Goomba's Worth •

Showdown Time!!

• Believe in Bowser •

Captain Boo Trial

•

The Mightiest Minions

•

The Beastly Bean Battalion

Miscellaneous
Mini-games
Border Jump • Mysterious Mine Carts • Star 'Stache Smash • Barrel •

Chuckola Bounce

• Surfing Minigame •

Splart

Stats
Bros. Point • Defense • Experience Point • Heart Point • Level up • Power • Speed • Spirit⋆⋆ • Stache⋆
Status
Burn •

Charred

• DEF-Down • DEF-Up • Dizzy • Heavy G • Light G • Poison • SPD-Down • Trip
Other
Gallery • Bestiary
• ⋆-Enemy, boss, or stat exclusive to the main game. • ⋆⋆-Enemy, boss, or stat exclusive to Minion Quest: The Search for Bowser. • ⋆⋆⋆-Enemy variants differ in Mario & Luigi: Superstar Saga + Bowser's Minions.