Baton and On is an unlockable Rhythm minigame in Super Mario Party.
Opening
The players' position holds the baton on their right hand. The metronome ticks and the players and Toadette move their baton.
Gameplay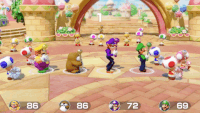 In this minigame, players must march in a parade with the baton to earn points.
Players must swing the Joy-Con in an up and down motion like they would in a parade with a baton. Toadette will guide the players and the Toads (with pom-poms) will change directions for each round and once the game ends, players must swing the Joy-Con in a hand waving motion to earn even bigger points.
Ending
The winner does their victory pose while other players sulk.
Controls
Wave Baton
In-game description
Sound Stage
Minigames
"March to the rhythm!"
"The timing is 3-2-1 now! for both starting and stopping."
External links
Community content is available under
CC-BY-SA
unless otherwise noted.