Baby Park is the third track of Mushroom Cup in Mario Kart: Double Dash!!, being in the shape of an oval-shaped loop. On one side, it's blue and on the other side it's red. This presumably represents the colors of Baby Mario and Baby Luigi. It is the shortest course by far and therefore has seven laps as opposed to three.
Other tips
Learning to mini-boost and snake really helps here to put an advantage over your opponents. Try to dodge or avoid getting hit by shells. Items can pass over the inner barrier, but racers cannot.
Reappearance
Mario Kart DS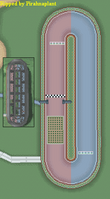 This course reappears in Mario Kart DS as a retro course, but it only has five laps. It is one of the shortest courses, like it was in Mario Kart: Double Dash!!
Mario Kart 8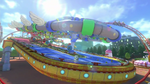 In
Mario Kart 8
the entire track is in anti-gravity mode and barely has
Glide Panels
unlike other courses. The track has horizontal halves with red and blue. The track has seven laps like the original game.
Items can no longer pass over the barrier that divides the track. During the final lap, the railings start to flash. The item boxes now move on the course.
Gallery
Trivia
Community content is available under
CC-BY-SA
unless otherwise noted.