Area Four is the fourth area in which you can explore in Luigi's Mansion. This is the fourth explorable area in the game. The first area you can enter in Area Four is the attic hallway, right outside of the Safari Room, which was first accessible in Area Three. When you first enter the hallway, lightning strikes the mansion, causing the power to go out through the entire mansion. You must then must find a way to restore power to the mansion. In Area Four, there are thirteen different unlockable areas to explore. Here you can capture seven different portrait ghosts, two of them being optional. These ghosts are Uncle Grimmly, Clockwork Soldiers, Sue Pea, who is optional, Jarvis, who is also optional, Sir Weston, Vincent Van Gore and finally, King Boo, who is disguised as Bowser.
Rooms
Wardrobe Room
The Wardrobe Room is a room that you first enter in
Area One
. After the power goes out in the m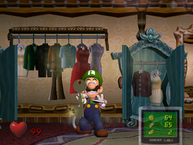 ansion, you must make it to the Breaker Room to restore power, but the door is locked. The key is being withheld by
Uncle Grimmly
, the Hermit of Darkness, inside the Wardrobe Room. Uncle Grimmly floats in front of the mirror in the center of the room. He will wave his arms around, trying to scare
Luigi
. When he does so, he becomes vulnerable and can be sucked up by the
Poltergust 3000
and get the
key
to the Breaker Room.
The room is rather small and has three teal colored wardrobes in the front of the room. Each wardrobe has several articles of clothing, and the one at the right has a in it. This room also has a mirror, shoe rack and a hat rack, as well as several hooks with dresses and suits on them.
Breaker Room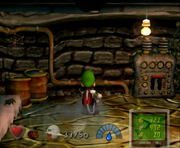 To get inside of the Breaker Room, Luigi must defeat Mr. Grimmly in the Wardrobe Room. The only ghost in the room is a 
Speedy Spirit
. When entering the room, you can flip a switch, restoring power to the entire mansion.
The Breaker Room is medium sized, containing two oil drums and several barrels around the room. There is also a generator and a cloth-covered table where the Speedy Spirit hides.
Community content is available under
CC-BY-SA
unless otherwise noted.