Welcome to MarioWiki!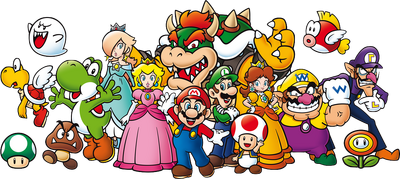 MarioWiki is a collaborative encyclopedia for everything related to the ever popular Mario series. There are 8,037 articles and growing since this wiki was founded in July 2007. The wiki format allows anyone to create or edit any article, so we can all work together to create a comprehensive database for the Mario series.
The MarioWiki community would love it if you would join us in our Chat room for a friendly conversation.
Overview · Wiki tutorial · Rules · Help pages · Navigation
Featured Article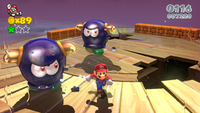 Spooky Seasick Wreck (

ゆらゆら幽霊船

Swaying Ghost Ship

?

) is the second level of World 6 in Super Mario 3D World. The coastal-themed level takes place on haunted ships at the rainy area. (Read more...)



Reviews
Date:11/04/19 Rating: 8/10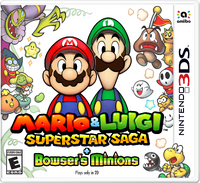 Mario & Luigi: Superstar Saga + Bowser's Minions is the 3DS remake of the 2003 original game on GBA! Without any further ado, let's get started!
The GBA classic reborn now runs at an immaculate 60 FPS all the way through! It has a save feature to save whenever you want and not just at a certain point, and the Simultaneous Jump uses the X button. Although they're still using Dream Team's art style, it makes the use of 3D models more convincing despite the lack of 3D. Still, the models are just not the same.
Minion Quest shows the other side of what happened during the adventure, and although it can get too passive at times, the fanbase of this side story is the best part of the game.
Past reviews... Super Mario Run... Mario Party DS... Mario Party 9...
Affiliates

Donkey Kong Wiki is a wiki focused on things related to Donkey Kong and his game series! The wiki currently has over 1000 articles! Help by contributing today!

Yoshi Wiki is a wiki focusing on everything related to Yoshi and the series! Please help us out here as it is still in process of being restored! Unfortunately, no administrators are active there and some users are creating fanon pages. We would like it if you adopt the wiki!

Smashpedia is a wiki all about the Smash Bros series. With over 2,000 pages, this is the ultimate Smash archive. Join today and help edit pages!

The Mario Kart Racing Wiki is the most archived and well organized Mario Kart Wiki created, with over 800 pages, and 600 photos. You should join today and help edit pages!

Mario Party Wiki is a wiki focusing on everything related to the Mario Party series! Please help us out here as it is still in process of being restored!


Paper Mario Wiki is a collaborative wiki all about the Paper Mario series! Help the wiki to create more articles!
Monthly Poll
What is your favorite 3D Mario video game?
Poll created by Derekblue1, make sure to request one and your poll could be picked! (polls are picked once a month)
Also, suggest a poll!
See previous poll results here!
Did You Know?
Chain Chomps were supposed to debut in The Legend of Zelda series, but ended up to debut in the Mario franchise. The Bow-Wow was based off the Chain Chomp to appear in the Zelda games.
Reminders
Read more rules at the rules page.
Please do not plagerize content from other wikis. While it is legal, we still have to write our own articles.
Don't bully or harass other users.
Don't upload off topic photos to gallaries, you can add them on your page.
Welcome new users! We are an ever growing community, and new users need to feel welcomed!
Helping out
You can help out the wiki by checking those pages and editing them.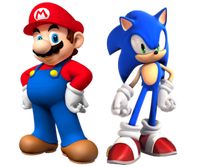 Language Wikis
The English Mario Wiki has other websites in different languages:
If you want to add some wikis to the directory, we will be happy to do so.
This template is shared with the other wikis as well.
Community content is available under
CC-BY-SA
unless otherwise noted.